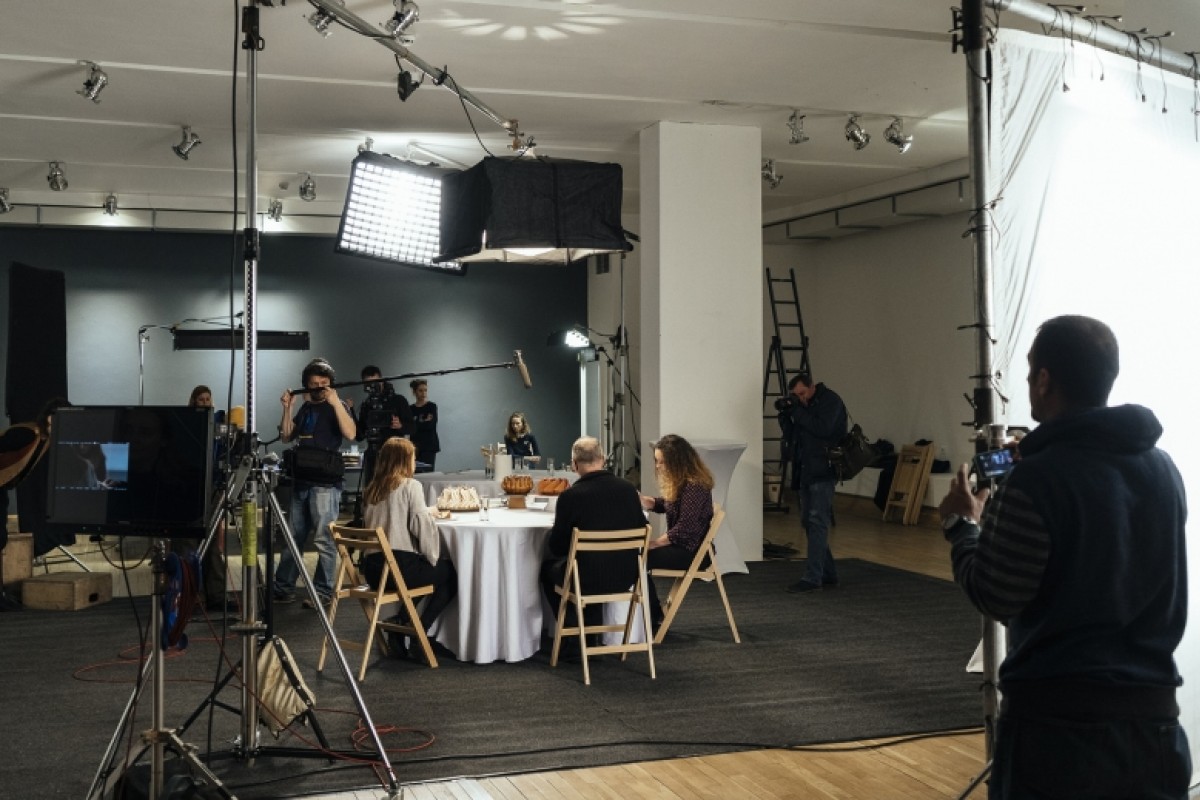 The Desert (with the cherry on top) manifests the notion of celebration, ritual, psychological portrait and at the same time the idea of a community and artistic life. This is the third and last stage of a long-term project – a cycle of video works, that started more than 20 years ago – "The Hot Soup and My Home Community", 1998 and "Main Course" 2006.
The final incantation of the work will once again be a video installation. However, this version is focused on "having a desert". The production stage is in fact a kind of a performance. The desert is transformed into pleasure and enjoyment while unifying a number of colleagues and art professionals. These are like-minded individuals who share common views and ideas, and express interest to commune and work together.
The idea is to focus on our artistic contemporaneity. To make palpable the widening of the scene; to demonstrate the vital continuity and development between arts professionals with shared interests from various generations and circles. The goal of the performance is to become something like an open demonstration of the process for the public. There is a hint of irony directed at the professional community and its self-sufficiency – a community which is present and active indeed while not evolving in ways we might expect it to.

The action consists of eating desert – various kinds of cake and pastry. Individually or in small groups, each participant is doing it as she/he wishes. They may sit at the table or stand up; talk to the others or smear the pastry all over themselves. Each one is free to perform as they wish. The desert can be somebody's personal pleasure but it could also be shared while each one might wish to play "the cherry at the top of the cake."
The creation of the final and the most festive part of this trilogy takes part within a single day. The location is the main space of the Sofia City Art Gallery where the audience has the opportunity to observe the process of filming live. The work evolves as a performance with the participation of altogether 31 artists and curators invited by the author. These are some of the most recognizable faces from the art professional community in Bulgaria. In the central part of the space, defined by 4 columns, a stage set was built up for filming the process of eating deserts. Three cameras were used for simultaneous filming from three different viewpoints. The filming set also involved special lighting, dolly camera and a crew, while the sound was recorded separately. In the vicinity there is the table with the deserts – altogether 12 different cakes and pastry with a crew handling those specifically. The viewers could observe everything within the process but could not take part in it.
Photographs: the author archive, Nadezhda Chipeva, Radostin Sedevchev